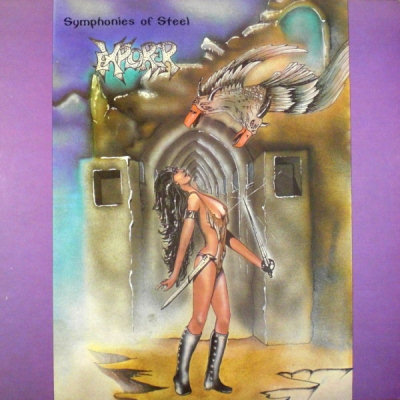 EXXPLORER - Symphonies of Steel
Over a decade back the Greek Metal Hammer offered to its readers a compilation CD with songs taken from releases from the legendary Black Dragon Records. It was a great compilation CD which I still listen to and one of the songs I distinguished there was the song "Run for Tomorrow" from a band called EXXPLORER. The song can be found on the debut album under the title "Symphonies of Steel" which has already been released on CD. Pure Steel Records will release it on vinyl too on a limited 300 copies.
THE COVER:
It is quite simplistic and childish and I think quite typical of the era that the album was released back in 1985. It shows a female barbarian warrior watching a 2 headed creature that looks like a bird. It might look bad in our days, but I think that somehow the cover helps the cult status of this release and sincerely I could not imagine any re – release with any different, modern cover.
MUSICAL STYLE:
We are back in 1985, an era when the U.S. metal scene was rising triumphant and gave us bands that we consider in our days classic, especially in the epic metal sound in which I believe that EXXPLORER belong too. Also have in mind that a year before this release IRON MAIDEN had released the album "Powerslave" which has been a major influence for the U.S. metal bands. So, in a few words I can say that EXXPLORER are of the first bands that crafted the sound that we so often call U.S. metal. I think that everyone will notice similarities to such bands like ARMORED SAINT, OMEN, MANILLA ROAD and also some touches of IRON MAIDEN's "Powerslave" era.
COMPOSITIONS:
The album consists of 9 compositions and as I have mentioned above most of them belong to the good old 80's U.S. metal sound and they of course have a strong epic feeling. I like the biggest part of this release, but for me the song that stands out is "Run for Tomorrow" and its intro "Prelusion" which is a haunting instrumental played with piano. In general all the compositions that are included here are enjoyable and highly addictive especially if you are fans of the U.S. metal sound.
CONCLUSION:
The album is considered classic or at least has a cult status in the underground metal scene. I think that EXXPLORER belong to those bands that deserved more, but yet can feel satisfied because they offered us such an album like "Symphonies of Steel". Now you will have the chance to have it on a vinyl edition which is the most suitable edition for this release.
Nick "Verkaim" Parastatidis